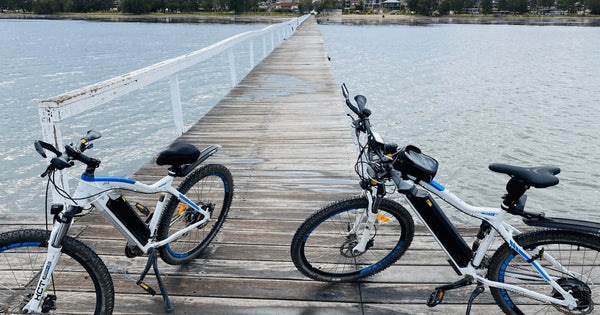 Why NCM is one of the best electric bikes in Australia?
One of the most significant drawbacks of many electric bikes is their price point. People who just want a reliable, cost-effective, and environmentally friendly way of getting about find the high price of electric bikes frustrating. But, NCM Bikes have made the quest for finding the best electric bike in Australia much easier.
Who Are NCM?
NCM Bikes is a German manufacturer based in Hanover. Founded in 2014, they have developed a variety of electric bikes and are now one of Europe's largest Pedelec brands. They have built up a global network of distributors and subsidiaries, including Leon Cycle Australia, creating a ready supply of NCM electric bikes for Australians. Customers can also easily source motor and battery kits and spare parts.
NCM's range of electric bikes is diverse, including commuter bikes, mountain bikes, and even folding bikes. Never compromising on their components and materials, while continually researching and innovating, NCM builds bikes that are fun to ride, reliable and fantastic value for money. They are made with a mix of propitiatory components and ones provided by third-party manufacturers.
Why Buy An NCM Electric Bike?
There are several benefits of choosing an NCM electric bike from Leon Cycle Australia. You will notice that NCM prides itself on producing high quality electric bikes at an affordable price. 
Value For Money
NCM Bikes offer exceptional value for money, as you will struggle to find similarly priced electric bikes of this high quality. Their specifications are excellent, as is the attention to detail NCM put into their bikes. But, they realise that there is no point building bikes that nobody can afford. Therefore NCM strives to ensure their electric bikes are affordable, making low-cost commuting available to students, people with low income and those that want to travel in a more environmentally conscious way than jumping in the car every morning.
Customer Service
NCM is a company that takes its customer service seriously. They want their customers to have the right electric bike for them. Therefore, they leverage their vast network of partners to advise customers as soon as they think about buying an electric bike. This network also makes it super easy for customers to find dealers that will help them build their new bike, source spare parts, and go for test rides. There will always be someone to answer your questions and help you wherever possible.
NCM bikes have a one-year warranty on all electrical parts. This includes the battery, motor, controller display and lights. The frame has a two-year warranty too, so you can be assured that NCM is confident in their products.
Quality Batteries And Motors
When choosing an electric bike, one of the deciding factors is the range you get from the battery. The DEHAWK batteries that NCM use for their electric bikes are well renowned for giving you a long-range.
You can expect motors from Das-Kit, who is a well-established player in the electric bike world. They offer kits to convert your traditional bike to electric and manufacture motors and controllers for bike brands. Das-Kit is also based in Hanover, allowing them to work with NCM more efficiently.
Having a reliable electrical system on your electric bike allows you to travel further without expending too much energy. NCM electric bikes will enable you to arrive at work or wherever you are going without looking hot and sweaty.
NCM's Electric Foldable Bikes
Their electric foldable bikes are the perfect solution for people that live in the city. One of the most versatile foldable bikes NCM manufacture is the London. This electric bike blends convenience and comfort. The adjustable handlebars and seat post allow you to tweak your riding position to make your ride as comfortable as possible. The plush seat enhances this comfort with its own built-in suspension to absorb vibrations from the road.
The low slung, step-through frame of the London, makes it super easy to mount. But, it also folds up to a very compact size, so you can easily store it at home or while at work. The other benefit of its compactness is that it can easily fit in your car, or be carried on to public transport.
To make urban riding effortless, the London has a unique feature built into the electronics system. This feature allows you to ride along at 4mph without pedalling, therefore riding through traffic is much simpler. NCM fitted the London with 20" wheels, not just to reduce its size, but to give it a tight turning circle and agile handling. Therefore, navigating around city streets, cars and pedestrians is much easier and safer, as you have lots of control.
Fitted with a 250W Das-Kit motor powered by a 36V 15Ah battery, the NCM London gives you plenty of power for riding in urban environments. This motor is hooked up to a Shimano 7-speed drivetrain, and gives you six levels of electrical assistance, meaning you will arrive at your destination looking as fresh as when you started, even on the hilliest of commutes.
The build quality, design and components package of the NCM London make it a fantastic commuter that doesn't break the bank. It also comes with front and rear mudguards, so it is suitable to ride in poor weather conditions.
NCM's Electric Mountain Bikes
NCM produce several electric mountain bikes, and sitting at the top of the range is the Moscow Plus. This bike allows you to access terrain that you wouldn't usually be able to get to, thanks to its electrical assistance. 
The punchy 500W rear hub-mounted motor is powered by a 48V 16Ah battery, which will give you a range of between 30 and 70 miles, depending on how you use it and the terrain you are riding. This system runs through an 8 speed Shimano drivetrain, helping to extend your range and on big climbs.
The Suntour XCM fork has 100mm of travel to soak up the shock from the terrain. This fork also reduces vibrations transferred into your hands, delaying fatigue, allowing you to take full advantage of the bike's range. To improve your pedalling efficiency, you can lock out the fork on smoother surfaces and uphill slogs.
The Moscow Plus allows you to explore further afield and ride more technical terrain, thanks to its capability. But, to keep you safe, NCM has fitted the Moscow Plus with Tektro hydraulic disc brakes. These brakes are pretty powerful and are easy to modulate, meaning you have lots of control for taking on challenging descents.
You can order your NCM Moscow with either 27.5" or 29" wheels. The smaller wheel size gives the bike more playful riding characteristics, while the 29er provides a smoother ride and a faster straight-line speed.
NCM's Commuter Bikes
As with the rest of NCM's bikes, their commuter bikes are very well priced, especially when you consider the build quality. Therefore, bikes such as the Hamburg and Milano are becoming very popular with people that need a reliable and low-cost way of getting around town.
The Milano Plus has been designed to make city living and commuting as easy as possible. Featuring a step-through frame, you can easily mount it whatever you are wearing. But it is also extremely comfortable, as the adjustable stem and seat post allow you to dial in your perfect riding position. Extra comfort comes courtesy of a plush saddle with a suspension seat post and Selle Royal ergonomic grips. Vibrations and shock are also absorbed by the grippy Schwalbe touring tyres and Suntour suspension fork.
You cannot help but be impressed by the Milano's motor and drivetrain setup. The Das-Kit, 250W motor is mounted in the rear hub and is renowned for its durability and torquey output. The motor allows you to ride around town effortlessly at 15.5mph for long periods of time. The advantage of having a small motor mounted in the rear hub is that the bike's handling isn't compromised. Therefore, the Milano's handling is responsive so that you can weave around urban obstacles with ease and safety.
The power comes from a DEHAWK 48V 13Ah battery, which is nicely integrated into the Milano's downtube. This gives the bike a sleek look, keeps the centre of gravity low and gives you a potential range of 70 miles. To keep this power in check, the Milano gets its stopping power from Tektro hydraulic disc brakes. These use 160mm rotors and provide excellent control and safety, which is essential for urban riding.
Whether you need an electric bike for commuting or having fun off-road, you have some excellent options from NCM. Their affordable price point and excellent build quality make these bikes extremely attractive. When you combine these elements with Leon Cycle Australia's customer service, you get a fantastic customer experience.